HYENA: THE BANDITS OF THE BUSH?
Posted on Mon May 4, 2020.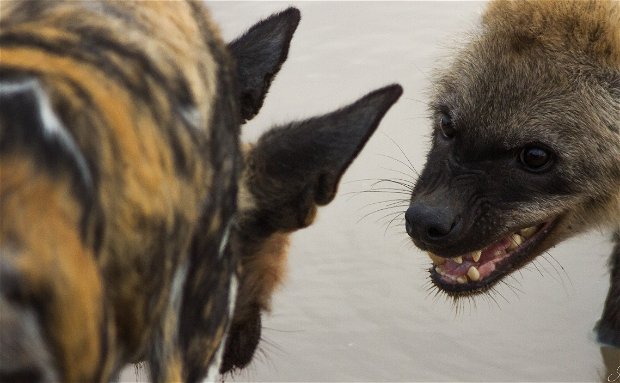 WHEN A RANGER ASKS THEIR NEW GUESTS WHAT ANIMALS THEY WOULD MOST LIKE TO SEE DURING THEIR STAY AT UMLANI, CALLS FOR "THE BIG FIVE" ARE HEARD ALONG WITH "GIRAFFE, HIPPO, ZEBRA" AND OTHER GENERAL GAME. THERE IS, HOWEVER, ONE CRITTER THAT SEEMS ALL BUT GUARANTEED TO NOT BE REQUESTED AND THAT IS THE SPOTTED HYENA.
The Spotted Hyena has been subjected to some very bad press indeed. Be it the "Lion King" portraying them as the antagonistic, unintelligent, bad guys, or the well-known writer Ernest Hemingway saying that they are no more than "hermaphroditic self-eating devourer(s) of the dead". I have found that the best way to correct a presupposition is through education, which is what I hope to achieve in this piece.
Misconception #1: Hyena are lazy scavengers that do not hunt.
This could not be further from the truth. Hyena are opportunistic and will eat carrion, when it is available, but are also accomplished hunters of a wide variety of prey. Whether scavenging or hunting one thing is certain, they will eat every last bit. Their digestive systems are well adapted to process bones, skin, hooves, and even the scat of other predators such as Lion and Wild Dog. It is for this reason that Hyena have sometimes been referred to as the "clean-up crew" of the bush, as without them there would be many rotting carcasses potentially spreading disease like anthrax, to which they are immune. A feature that is essential to their ability to eat bones and hooves is their truly incredible bite strength. A human can generate around 150-200 PSI of bite force whereas a Spotted Hyena's bite force has been measured at 1,100 PSI-enough to crack even the thick femur of a Buffalo.
Hyena will hunt mostly by coursing, meaning that instead of using stealth like a Leopard, they prefer to run directly into a heard of herbivores causing mass panic and scattering the herd in all directions. Whilst this may seem a poor strategy as it takes away the element of surprise, it is valuable in that it allows the Hyena to identify any sick or injured animals. Once a target has been identified, it is pursued till exhaustion. Through a human point of view this seems cruel, however, it is vital to the health of the ecosystem as weaker/ill members are removed from the gene pool allowing only the fittest to spread their genes and stems the spread of illnesses to the rest of the herd.
Misconception #2: Hyena are unintelligent creatures
Researchers, using a range of tests and experiments too vast to go into detail in this blog, have shown that not only are Hyena intelligent, but are among the most intelligent animals in Africa with problem solving skills and numerical abilities rivaling those of some Primates. Anyone working at a lodge will attest to a Hyena's problem solving abilities as they manage to find their way into food stores that were "Hyena proof". There appears to be a positive correlation between social complexity and cognitive ability, simply put: the more tiered your social structure, the smarted you need to become to survive. To say that Hyena have a complex social structure would be an understatement. For example, they are fiercely matriarchal and in the Hyena world even the lowest ranked adult female outranks, and is larger than, the highest-ranking adult male. The family group, called a clan, is led by one matriarch who would have either inherited her high status from her mother or would have achieved it through a hostile takeover. Hyena are extremely vocal creatures, often at night you may hear a "woooOOOuup" sound, this is the unmistakable call of a Spotted Hyena. That being said, they are probably better known for their "laughing" call which they make when excited or distressed. Among these calls are 12 other sounds, that we know of, all with different meanings based on the situation, a clear marker of intellect.
Misconception #3: Hyena are hermaphroditic
A question often asked at a hyena sighting: "is that one male or female" it is at this moment that the ranger will have a rather awkward discussion about the anatomical challenges to their gender identification. The bottom line is that Hyena are not hermaphroditic but instead, have anatomy that certainly makes them look as if they are. The females have what is known as a pseudo-penis which closely resembles the male genitalia and even have a fake scrotum made up of fatty tissue. Why they have this is one of natures great mysteries although there are many theories.
Misconception #4: Hyena are related to dogs
The final common misconception is an understandable one. Hyena certainly have dog-like features but are more closely related to cats. In fact, their closest relative, besides the other Hyena species, are members of the Viverridae family which includes mongooses and civets. It is for this reason that you may hear your Ranger refer to Hyena young as cubs and not pups. 
I hope this has in some way shed some light on the most misunderstood carnivore in the Bushveld and that the next time you visit Umlani and your Ranger asks what you would like to see, I implore you to reply with "Hyena". I can guarantee they will be shocked and pleasantly surprised.
Written & Photographed by: Jordan Wallace