Umlani Captured In Photos- 2019
Posted on Tue December 24, 2019.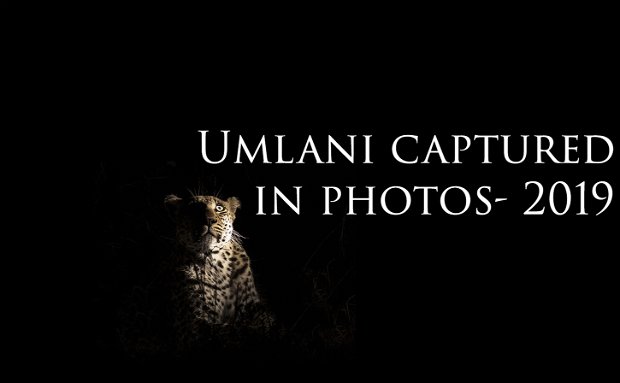 ANOTHER YEAR HAS COME AND GONE, 2019 WAS AN INCREDIBLE YEAR FOR GAME VIEWING HERE AT UMLANI BUSHCAMP. OUR BIG CAT VIEWING WAS SOME OF THE BEST IT HAS BEEN IN RECENT TIMES AND WE HAVE ALSO SEEN THE BUSH GET SOME MUCH NEEDED REPRIEVE FROM THE DRY PASSED YEARS IN THE FORM OF A LOT OF MUCH NEEDED RAIN. IN THIS BLOG WE WILL TAKE A LOOK AT THE BEST SIGHTINGS WE HAD THIS YEAR, SOME OF YOU WILL EVEN REMEMBER BEING HERE AND WITNESSING THEM FOR YOURSELF. IN THIS BLOG WE REVISIT SOME OF OUR MOST MEMORABLE SIGHTINGS OF THE YEAR, WE HOPE YOU ENJOY THE TRIP DOWN MEMORY LANE.
In the beginning of the year we had the Mayumbula pride of 4 females move into our traversing area and seemingly make it their home as they all gave birth to cubs around the same time, in this prides time in our area they provided us with countless incredible sightings here are a few highlights. Being able to witness the 10 cubs grow from first seeing them a few weeks old to becoming young lions was an absolute privilege, to this day the 4 adult lionesses have done an incredible job of raising their cubs and all 10 cubs are still alive and well, even though we don't get to see them that often anymore.
Watching the Mbiri males see-saw in and out of power has also been extremely interesting it seems like a bit of a fall from grace for them as they once dominated a huge portion of the central and southern Timbavati. The first part of the year saw them defending their territory viciously against any intruder that set foot in their kingdom, however it seems like the comfort of a stable pride was all that the two males were looking for and in the last part of the year we witnessed them all but move out of their former stomping grounds sticking with the Myambula pride who make regular kills therefore providing meals not only for their cubs but for the 2 males as well. These days the males will make the odd appearance but with 3 new males known as the Nharu males that have moved in they seem content to give up a large portion of their territory, perhaps one of the times that the Mbiri males returned and marked with the wounds of war the decision to relinquish territory to the 3 newcomers was made.
Leopard sightings were nothing short of incredible this passed year, from watching cubs reach independence to new leopards staking claims in the area, we were blessed to see leopard most on a fairly regular basis, sometimes even more than one leopard in a sighting. There was a lot that happened to our regular leopards here at Umlani Bushcamp, firstly the sad loss of Marula female who left behind her two 8 month old cubs who against all odd managed to survive and are doing extremely well, especially the young male who has completely relaxed around the vehicles. One of the biggest highlights of the year was watching Nthombi female who currently has a young male cub known as Hlangana who is now reaching independence, seemingly adopt Marula's boy for a short period of time and the unlikely trio of leopards were seen together on a number of occasions. There were also quite a few newcomers to the area especially young males, the Tamboti male together with Xidulu young male seem to have pushed Madzinyo out of his territory as Madzinyo wasn't seen this year at all apart from one occasion in the deep south passed our southern boundary. We also had the massive Rothsay male being more present than usual and he has really relaxed around the vehicles especially at night where we got to spend quality time with him and he still looks firmly in charge of his territory and relatively unrivaled, apart from one occasion where we found Ntsogwaan male in the heart of Rothsays territory however his stay was brief and he returned to his own territory in the south western section of our traversing area. Thumbela successfully raised two cubs to independence in the beginning of the year, she then gave birth to another litter but unfortunately those cubs did not survive and we saw her moving around her territory looking for a males to mate with on quite a few occasions.
If birding is your thing then this year produced some awesome opportunities to satisfy the twitchers urges, our annual rainfall has been a lot better then previous years and with that brought all the birds out, and with over 400 species of birds to be viewed out here there was definitely no shortage of opportunities to enjoy our a spot or two of birding between sightings of the bigger animals whilst out on safari.
We were lucky enough to have had plenty of Wild dog sightings this year, we even had them denning on our traversing area allowing us many sightings of these endangered carnivores. Watching the pups on a daily basis was incredible as they became accustomed to their surroundings and interacting with the different pack members.
Other highlights that we had this year included numerous cheetah sightings, these big cats are very rarely seen here due to the abundance of other predators so it truly was special being able to spend some time with these big cats, on two separate occasions we were even lucky enough to see cheetah making kills, the speed of a cheetah hunt is truly awe-inspiring as when you watch them on television they generally in slow motion and a real idea of the pace of a cheetah is something that can only be grasped seeing it in person. We also saw the return of the young pink elephant calf which we had last seen as a new born and it was fascinating to see how well he is doing under his circumstances and with the protection of the herd, whilst on the topic of elephants we have been blessed with huge herds of elephants constantly spending time on our traverse, to be among so many elephants is just such a humbling experience and its always entertaining watching elephants doing what they do, be it drinking, feeding or youngsters at play. As mentioned this year we had a lot more rain and after the dry years we have had the buffalo have started to make a comeback and we are starting to once again see the large herds moving through the reserve again.
2019 truly did provide us with some of the most amazing sights and we look forward to what 2020 has in store for us, if this past year is anything to go by then we have a lot to look forward to.
Written & photographed by: Greg McCall-Peat