Umlani Captured In Photos- April 2019
Posted on Thu May 2, 2019.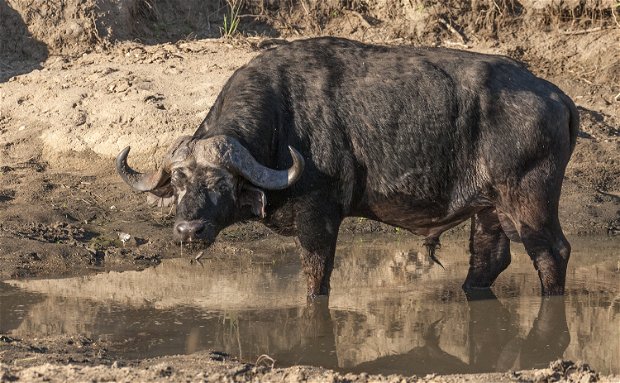 YET ANOTHER MONTH HAS FLOWN BY AND WHAT AN INCREDIBLE MONTH IT WAS, WE RECEIVED A FEW LATE RAIN SHOWERS TO END OFF THE WET SEASON AND THE BUSH IS LOOKING BETTER THAN EVER AS WE MOVE INTO THE DRY SEASON. OUR SIGHTINGS CONTINUED TO BE OUT OF THE TOP DRAWER AS WE SAW MORE OF MARULA'S EVER GROWING CUBS AND MANY MANY MORE AMAZING SIGHTS WHILST OUT ON SAFARI.
Although not many of our different leopards were seen we did see a lot of Marula and her 2 cubs who made up the bulk of our leopard sightings this month, this is good news as it means the cubs are becoming more and more relaxed with the vehicles as they are exposed to the them on a more regular basis. The female cub is still relatively shy but her brother is already comfortable enough to approach within a few meters of the car and no doubt both cubs will continue to become more habituated as time goes by.
Marula female resting in between stalking some impala one night. She has been doing a fantastic job providing meals on a regular basis for her cubs, thus insuring their survival.
On one morning we found Marula and the cubs with an impala kill, although the cubs remained in the thickets feeding on the kill Marula was out in the open showing herself off to our guests.
Marula managed to kill a steenbok and lead her cubs to the kill, we got to see them making their way to the kill before resting in the shade nearby before starting to feed. Here you can clearly see how relaxed the young male cub has become with us.
We also got to spend some time with Nthombi and her now sub adult cub as they moved through her territory together. The amazing sighting turned even more incredible when a couple of hyenas stumbled across the pair of leopards sending the youngster high up into a tree whilst Nthombi attacked the hyenas viciously in defense of her cub, sending the hyenas running for the hills.
A morning stroll with Nthombi and her cub, it is amazing to see how big the cub has gotten as it didn't feel that long ago that she was just a small ball of fur feeding off her first kill a couple of months ago.
Nthombi's cub showing the displeasure of being chased up a tree by the hyenas, fortunately for her Nthombi made the hyenas pay for it by giving them a beating for messing with her daughter.
We also got to spend some time with the large Rothsay male leopard one night as he took a break from his endless territory patrolling. He really is relaxing nicely around the vehicles especially at night, and we hope that he continues to get even better over time and that we start to see more of him during the day as well as he is an almost constant presence on our property.
Easily identified by the gap in his top lip and sheer size, the Rothsay male lies 5m from our vehicle completely relaxed in our presence.
Elephant sightings have continued to be frequent with a number of herds moving in and around our traversing area. One of the big highlights was spending time with a large herd as they quenched their thirst late one afternoon at one of our waterholes, however what made this sighting extra special was that the pink elephant calf that we last saw roughly a year ago was with them. He too is growing and looking healthy despite his different coloration and the challenges that come with that.
The pink elephant calf a bit bigger than the last time we saw him, and now sprouting a set of new tusks.
The lions of the Timbavati have been a little bit on the quiet side sightings wise this last month with the Mbirri males and Zebinine pride remaining south of our borders. We have however seen the River pride on a number of occasions as well as the giraffe pride making an appearance in the south west one evening. Both prides are looking healthy and strong and in the case of the River pride, they have been spending more and more time in our traversing area and seem to be asserting themselves as the dominant pride in the central to northern Timbavati.
We found the River pride one evening as they started to get moving after sleeping off the heat of the day. They began hunting so we sat with them in the dark while they positioned themselves and made their move on some nearby zebra, however they missed their target and their hunt was failed. It was still an extremely amazing experience being among lions as they do what they do.
As mentioned the giraffe pride made a welcome visit coming up from the south for an evening, all the young cubs of the pride are growing into sturdy looking sub adults now and the pride seems to be doing very well. It is always an impressive sight to see a large pride of lions and for now the Giraffe pride seems to be going from strength to strength.
Buffalo have remained very scarce in the area, however we have had the pleasure of viewing a single old bull on a daily basis who has made the area around Umlani his home as he moves between the different waterholes dotted around our property, making the now difficult task of finding buffalo just slightly easier, although we do miss the large herds, hopefully with the onset of winter we will be seeing more of them.
It wasn't only the big 5 that entertained us with quality sightings this past month, a lot of the Timbavati's other inhabitants also made some appearances from wildebeest to lilac-breasted rollers we really saw it all this month.
That concludes this edition of our highlights blog, we look forward to what the coming month has in store for us as we move into the cooler dryer autumn months. Lets hope our luck continues and the bush carries on delivering such excellent sightings for our guests. Until next month...
Written & photographed by: Greg McCall-Peat