Umlani Captured in Photos- March 2017
Posted on Wed March 22, 2017.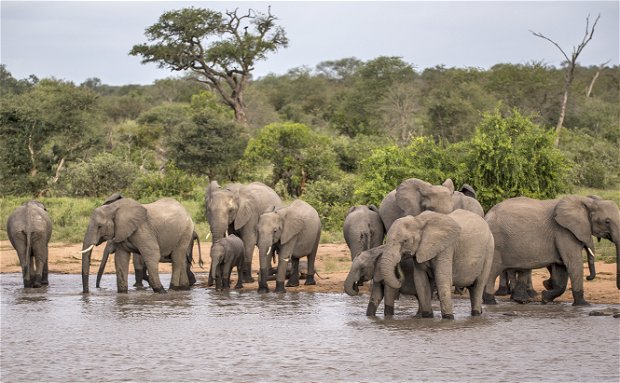 March has come and gone in the blink of an eye and we quickly moving out of our hot summer months and into the slightly cooler season of autumn. We can already feel the cooler temperatures in the mornings and the evening which is a welcome reprieve from the intense heat making being out on safari in the bush just that much more enjoyable.
As fast as March passed us by, it was full of exceptional game viewing especially with the big cats with us having a number of lion sightings and even more leopard sightings. So I will let the pictures speak for themselves and enjoy our latest monthly offering in photos.
Elephant sightings have been spectacular with quite a few large breeding herds moving throughout our traversing area. One particular sighting really stands out as we came across a herd moving down to one of our waterholes to drink after which they then spread out feeding, little ones were playing as their mothers moved around us feeding, it was a case of us not knowing where to look as there was just so much going on, a magic sighting that we managed to capture with our cameras.
Lions have been seen on almost a daily basis this month, with all our regulars and even a surprise visit from a huge male that has moved all the way up from one of the other private reserves bordering the Timbavati, he has 2 brothers used to hold territory even further south so time will tell if this powerful coalition (known as the Matimba males) with setup roots here. One evening we found the lone Matimba male roaring into the night, its a brave move to announce his presence in a new area, perhaps he was testing the area or even calling to his brother we will have to see how this plays out.
The 2 nomadic males from the north have also been seen a fair amount, although lately we have just been seeing the one brother, what often happens is males will split off from each other from time to time and I am sure this is the case with the youngsters, they will have to be careful with the other much larger males that are around at the moment. 
 General game sightings have been phenomenal over the last few weeks with us seeing huge herds of zebra, and massive congregations of different species hanging out together enjoying the abundance of vegetation and water that is around at the moment so they seem to be making the most of the abundance before the dryness of winter sets in.
With all the high grass at the moment we have had some glorious leopard sightings as they use the high tree branches as vantage points, its always nice for our guests to see this elusive cat out in the open and they have had plenty of opportunities to capture their leopard memories in pictures. Marula has been seen a couple of times but it seems she has moved her den site into our neighboring reserve so there has been no more sightings of the cubs...hopefully soon! From leopards feeding to a leopard getting her tongue nipped by a cheeky terrapin while she had a drink we saw it all.
We have been seeing a large herd of buffalo moving in and out of our traverse this month, its always an exciting sight to see as not only hundreds of thundering hooves hammer the ground creating huge clouds of dust but it also brings in the lions who specialize in buffalo hunting here in this area, so there is always a thrill to be had when viewing these bovines.
That's it for this month, as you can see it couldn't get any better but nature always seems to find a way to out do itself so we wait for what April will have in store for us...until next time.
Written & Photographed by: Greg McCall-Peat