SIGHTINGS BLOG- Leopards of Umlani
Posted on Tue November 5, 2019.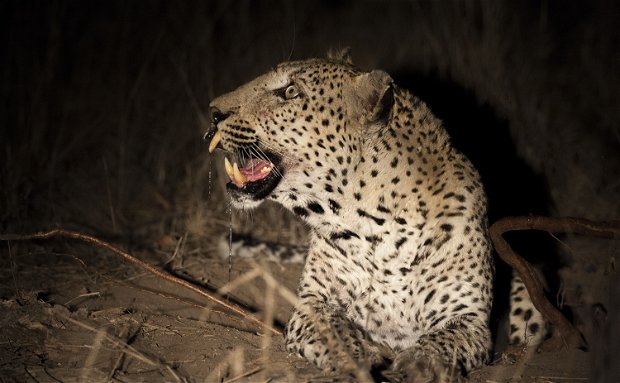 SINCE THE DISAPPEARANCE OF MARULA WE DEFINITELY FELT IT WITH A SIGNIFICANT DROP IN THE REGULARITY OF LEOPARD SIGHTINGS, HOWEVER IN RECENT WEEKS SOME OF OUR OTHER LEOPARDS HAVE BECOME MORE REGULAR AND SEEN A LOT MORE INCLUDING A NEW YOUNG MALE THAT SEEMS TO HAVE MADE THE AREA AROUND THE TREEHOUSE HIS HOME FOR NOW UNTIL THE LARGER ROTHSAY MALE PICKS UP ON HIM AND CHASES HIM OFF.
WE RECENTLY HAD TWO INCREDIBLE SIGHTINGS OF THESE DIFFERENT MALES RIGHT ON THE CAMPS DOORSTEP.
Often when going to Marcos dam or the treehouse we would catch a quick glimpse of the unknown young male leopard, still semi skittish especially during the daylight hours as he ducks for cover when a vehicle approaches, however his shy demeanor has quickly changed and we are getting more and more relaxed sightings of him especially under the cover of darkness.  
On one particular night, we arrived at Marcos dam, at first there was no signs of life, but then two hyenas arrived at the water to have a drink. we were sitting in silence and with the lights off listening to the sound of the hyenas as they drank, it is quite remarkable how sound travels at night in the bush, when all of a sudden all hell broke loose as the sounds of a fight broke out, we turned on the spotlight and saw a group of hyenas attacking on of the hyenas that had originally come to the water. Amidst the chaos I noticed eye shine from the far side of the dam, at first we thought it was another hyena, but knowing animal behavior surely if it was in fact another hyena, it would be rushing in to join the fight? So we moved a bit closer to investigate. as we approached we made out the distinct cat like shape of a leopard, it was the young skittish male leopard watching the fight from a distance, I thought due to the number of hyenas in the area he would be shy and move off but to my surprise he didn't, he remained relaxed and stayed put where he was perhaps not wanting to be noticed by the already agitated hyenas. We stayed with him for a while and managed to get a few good pictures of him before leaving him be and heading back to camp. 
A few days later, when our game drives returned from safari in the morning our guides reported that Rothsay male leopard had made an impala kill not far from the camp, knowing he isn't relaxed during the day I decided to wait until nightfall to go and see if I could see this impressively large male leopard. It has been a good few weeks that there was no sign of him and with Nstogwaan male making an appearance at our waterhole in front of camp last month I was beginning to wonder if Rothsay male was in fact still around.
On arriving at the area where the male leopard had been seen I could see that the impala meal was all but finished with only a leg and a bit of skin draped in the fork of a Marula tree was all that remained. At first glance there was no sign of the leopard, but as I drove in on the two track leading to the tree the large muscular for of the huge male leopard appeared from behind a grassy thicket. As I have mentioned in previous blogs this male was never the most relaxed individual but with patience and long hours spent with him, I have slowly but surely witnessed him becoming more accustomed to the vehicles presence right up until this point where I could get to within a few meters of him without him so much as opening an eye to look at me while he slept off his big meal. 
With him having a meal stashed in the tree there were a couple of hyena roaming about hoping for scraps and every now and then when one wandered to close to him he would sit up and give them an assertive look allowing for some great photos before he would put his head back down and carried on resting. It is always interesting to see the difference in behavior between the male and female leopards, the males seem to know they are bigger and more intimidating and tend to stand their ground rather than the females who snarl hiss and most often head up the nearest tree when confronted by hyenas, Rothsay male seems to know he is the boss and remains relatively cool calm and collected, I've even seen him challenging hyenas when he is out numbered by them in an attempt to rob them of their own kills. 
As mentioned before Rothsay male is very easy to identify due to the fact that he is missing a large part of his upper lip giving him a very distinguishable look. I also noticed that it looks like he has snapped his upper right canine tooth off which is now hanging literally by a thread from his jaw, it must have been quite a fresh injury as it seemed to irritate him if he put any weight on it when he rested his head down to sleep. An injury like this is actually quite common with predators and he will more than likely carry on as usual without it being too much of a hindrance.
After spending about 2hrs with him I decided to leave him be, when habituating leopards I always find it beneficial to leave a sighting on good terms with the leopard so that there is no negative associations with the vehicles, this tactic seems to be working as every sighting of this leopard that I do have just seems to be better than the last as he grows in confidence around us.
Written & photographed by: Greg McCall-Peat