Umlani Blog- An Update On Our Leopards
Posted on Fri August 28, 2020.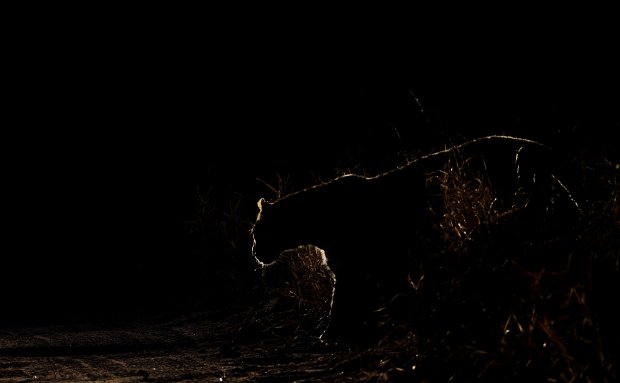 CHANGE IS GOOD, THE OLD SAYING RINGS TRUE AS WE HAVE SEEN A MAJOR SHIFT IN OUR LEOPARD POPULATION OVER THE LAST FEW WEEKS. SADLY IT LOOKS LIKE NTHOMBI HAS PASSED ON, MUCH LIKE MARULA WE HAVE BEEN LEFT TO ASSUME WHAT HAPPENED, ALL WE KNOW IS HER TRACKS ARE NO LONGER LEFT ON THE ROADS, GAME PATHS AND DRAINAGE LINES AS THEY ONCE DID, AS SAD AS A LOSS IS SHE HAD A LONG LIFE AND GAVE US MANY INCREDIBLE SIGHTINGS AND SO LIKE THE OTHER PASSED LEOPARDS BEFORE HER SHE WILL ALWAYS BE REMEMBERED. HOWEVER AS I MENTIONED CHANGE IS GOOD AND WE HAVE SEEN A HUGE SHIFT IN OUR OTHER RESIDENT LEOPARDS. BOTH NYELETI AND THUMBELA HAVE MOVED WAY WEST FROM THEIR FORMER TERRITORIES IN THE FAR EASTERN CORNER OF OUR TRAVERSING AREA, NYELETI SEEMS TO HAVE IMMEDIATELY TAKEN OVER NTHOMBI'S OLD TERRITORY AND HAS BEEN SEEN A NUMBER OF TIMES BOTH ON KILLS AND MARKING TERRITORY WHICH IS A CLEAR SIGN THAT SHE HAS MOVED HER TERRITORY. THUMBELA HAS NOW BEEN SEEN AROUND UMLANI FOR THE PAST MONTH ALSO SCENT MARKING AND MAKING KILLS, SHE ALSO LOOKS LIKE SHE IS IN THE EARLY STAGES OF PREGNANCY WHICH WILL BE AMAZING IF SHE HAS THE CUBS ON OUR PROPERTY. WE HAVE ALSO BEEN SEEING A FEW NEW LEOPARDS BOTH MALE AND FEMALE IN THE AREA WHICH IS ALWAYS GOOD AND VERY EXCITING FOR THE FUTURE. FOR NOW ENJOY SOME OF THE LEOPARD SIGHTINGS WE HAVE HAD RECENTLY AND WE LOOK FORWARD TO SHARING EVEN MORE UPDATES SOON.
We had a very intersting sighting involving Nyeleti, her cub and Xisiwana last week, the trio were found with a steenbok kill, on arriving at the sighting, Xisiwana had taken over the kill for himself and had Nyeletis cub right up in the top branches of the same tree, every move the cub made was greeted with snarls and hisses from the young male. Interestingly Nyeleti was on the ground close to the base of the tree sleeping and not showing any concern for her cornered cub. Later that afternoon the cub managed to escape from his tree top escape and bother mother and cub left the thieving Xisiwana to the remains of the kill.
A few days ago we left camp for an afternoon game drive and as we headed down into the riverbed crossing close to camp, we stopped to view a tree squirrel who was not happy and chirping its alarm call from high up in a nearby tree, as I was informing the guests how squirrels can be used to locate predators an unknown female leopard emerged from the opposite bank of the riverbed and proceeded to cross over right in front of us. SHe looks to be an older female, but seemed completely relaxed with our presence so hopefully we get to see more of her.
Whilst out one morning, an impala kill was found, but there was no sign of any leopard, just the carcass hoisted up in a tree, due to the area that the kill was in we assumed it was Nyeleti and perhaps she had gone to fetch her cub, so we decided to head there in the afternoon. On arrival there was still no sign of the leopard but the kill had been fed on so we decided to go for our sun-downer drinks and return after dark. Our plan worked and under the cover of darkness the leopard had in fact returned however it was not Nyeleti, but a large unknown male leopard. According to the other guides he is relatively nervous but at night he seemed to not mind our presence at all, while we were sitting with him, we heard some grass rustling off to our left hand side which got the male leopards attention very quickly who began growling and hissing and looking down in the direction of the sound, suddenly the soft chuffing contact call of a leopard began from the thicket next to us, Nyeleti had joined the sighting and the male wasn't prepared to share the kill. 
The real star of the show has been Thumbela female, we have found her most days in and around the Hlaralumi riverbed that runs through Umlani property. She seems to have shifted her territory due to pressure from other females, most likely Nweti female and another big female in the South East. Thumbela being an older female will more than likely relinquish territory especially if she is getting pressured by more than one female.She has been marking territory and making kills in her new range which is a good sign that she is establishing the area as her own, since Marula's passing the area has been more or less vacant of females so it was only a matter of time before someone moved in, and we are glad that its her.
That is all for this blog, hopefully you enjoyed the update, although some of it was sad news there is plenty of good news and we look forward to catching up some more with these cats and be witness to how their lives unfold.
Written & Photographed By: Greg McCall-Peat