Umlani Blog- A Moment To Think, A Moment To Hope
Posted on Tue April 14, 2020.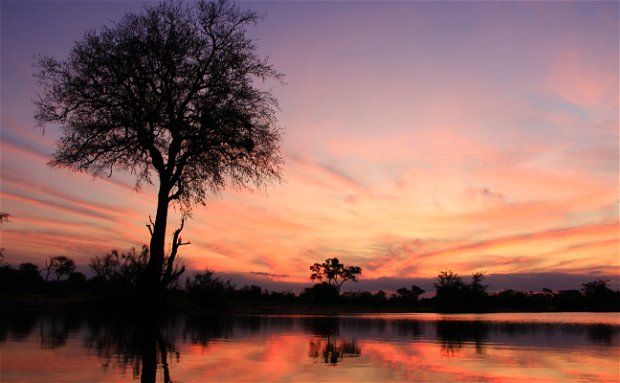 THIRTY YEARS AND COUNTING…
THE WORLD IS IN LOCKDOWN.
ITS EASTER WEEKEND AND INSTEAD OF THE USUAL BUSTLING ACTIVITIES AT UMLANI, WE ARE EXPERIENCING AN ABSENCE OF GUESTS, A TOTAL LACK OF ACTIVE MOVEMENT AT ALL, OR THE USUAL SCHEDULES: - NO MORNING STAFF MEETING, NO GAME DRIVES AND NO RADIO CALLS, TO ALERT US OF EXCITING SIGHTINGS, OR, MATTERS NEEDING OUR ATTENTION…
THIS TIME, RIGHT NOW, MEANS, ITS QUIET; VERY, VERY QUIET AT UMLANI, PLACE OF REST.
EVEN THE FRANCOLINS ARE SLEEPING IN. AS WINTER APPROACHES, IT'S 5:30 IN THE MORNING AND I SEEM TO BE THE ONLY ONE WHO'S UP. TO MY RIGHT, AN ORANGE HUE ON THE HORIZON, HINTING THE IMMINENT ARRIVAL OF THE HOT AFRICAN SUN, SOON.-
JUST THE WIND, THE SOUND OF LEAVES BLOWING, AND MYSELF, IN NATURE.
A PEACEFUL TIME TO REFLECT –

Easter weekend is approaching, its 1990 – 30 years ago – and a very young Marco and Marie and some helpers are working furiously in the heat to finish the new huts, and new look, extended camp at Umlani, before the visitors arrive for Easter weekend.
Almost just as the guests arrive, the last floors of the new huts are still drying. Marco and Marie sigh a big sigh of relief as they welcome the guests, our very dear family friends, Gill and Tony Brink, Val and John Bond, Heather and Alphons Wolfs and their friends.
The rest is pretty much history; Umlani has grown from strength to strength, grown and learned a lot, changed some things and didn't change other's at all - rewarding experiences full of excitement, some challenges along the way, and growth for both staff and guests alike.
A lot can happen in 30 years – who would have thought that on our thirtieth birthday weekend, we'd be empty – void - of any guests, except for the troops of baboons or monkeys, wreaking havoc as they desperately try to score some food.
A virus – like on all the apocalypse movies – bringing us to the end of the world as we know it! What does the future hold? What happens next? Who knows, certainly not me; all I know is that for now, we are living with huge uncertainty constantly, and living in the moment, because that's all we have.
In this moment, here in the bush, the stillness is astounding.
The morning sunrise, sounds of the bush, and later on, the exceptional masterpiece of God's artworks in the sunsets, then, as a cherry on the top of gratitude dessert, looking up to the millions of stars in the dark night sky – it's as if the angels are throwing them down on us like confetti, sprinkling little glitter lights for the soul into our orbit, and promising us that everything will be okay. Even when we have guests in camp, and it's not quite AS quiet as RIGHT NOW, this is the ethos of Umlani – place of peace, place of rest – it's a feeling; and it's what we want to gift our guests – the heart expanding feeling of the African Bush, that awakens the soul, and fills the spirit, like nothing else on earth can do.

As I watch the little warthog family trim the grass in camp, doing us the favor of keeping it neat for when the guests return, I wonder to myself, " … how long will it take? Will we get guests back again soon, or only much later? How soon, how long? …and our team, will they be able to work here again, in the same capacity? Or is it all a distant memory already?!" – I can't believe what has happened, it's surreal, its scary and it's cathartic. Letting go of the things we take for granted, freedom of movement, bustling camp full of guests and our team, the people who make our guests happy and enrich our lives.
At Marco's dam at the tree house, where so many guests have watched those same stars before they sleep, or lay awake, enjoying the night sounds; Henry the hippo (given this name by one of our guests), seems to have gone walk-about. Does he know something we don't?
It's a time where we need to be grateful. Grateful for our success of the past thirty years, grateful for our amazing team and their hard work and dedication, and our special and appreciative guests, without whom, we could never have had this story to tell.
It's with gratitude that I wish you all good health, and well being, and hope, with all me heart, that we will see you again soon, at Umlani, to experience the bush and our camp, as it was before…
Written by: Micaela Cormack